Featuring 3TEETH, Street Sects and HXLT
For over 9 months I had heard of a band called Ho99o9 (pronounced HORROR) that is a punk rock band that seemed to blend rap and punk in a very different way. This wasn't Nu-Metal, but a whole new style of music that I would describe as taking the raw and hardcore stage shows (not to mention naked performances) of G.G Allin and the dark and demented flows of an early Brother Lynch Hung, (think "Season of The Da Siccness ). Anyways, they had me at G.G.
H09909 Photo by Anthony Mehlhaff

I missed them at a couple of different shows in Los Angeles and when it was announced that they would be opening for Avenge Sevenfold later in the summer, I thought I would have to wait till then to see them. But luckily Ho99o9 has been touring across North America with 3TEETH and their tour came to an end with 2 shows at the 1720 Warehouse, a fairly young venue nestled between a tent city and gang graffiti near DTLA.
The venue remained pretty empty as HXLT struggled with mic and sound issues but once they got the technical difficulties straightened out, the crowd thickened and the energy increased a bit. I wanna say that HXLT brought it but like most shows I've been to in LA and elsewhere, the crowds show up for one band they've heard of and don't come out for the openers. What a bunch of dicks!
HXLT Photo BY Anthony Mehlhaff
Street Sects played in what looked like a Spirit Halloween store with the amount of fog juice they pumped into the crowd before Leo Ashline ran through the people swinging a chainsaw. (This really happened.)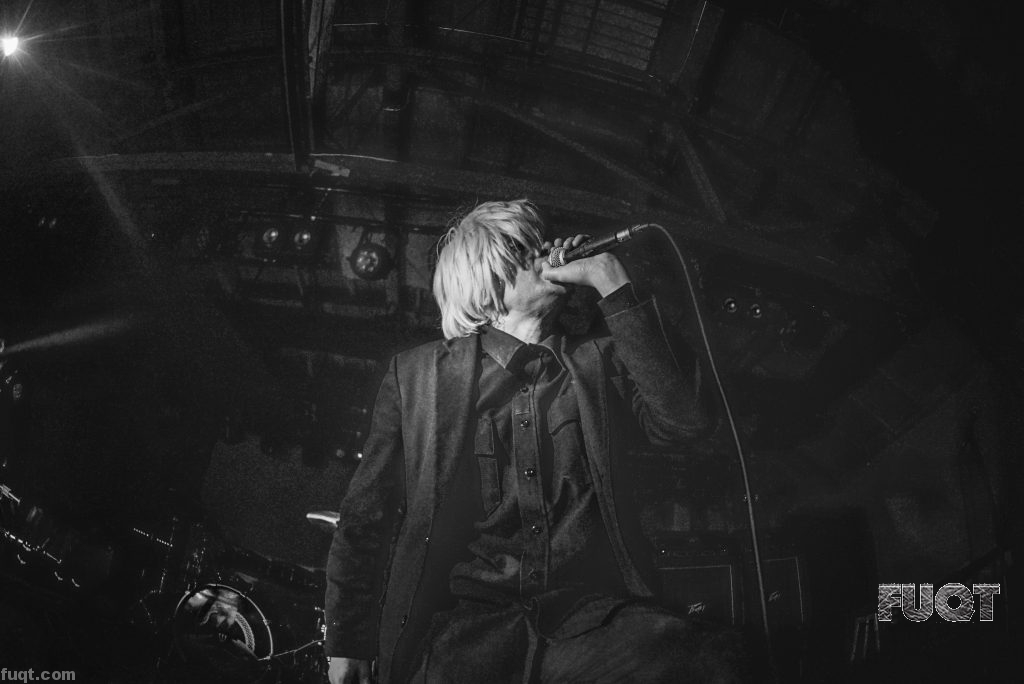 3TEETH was up next and they seemed to be slightly effected by the long tour. Don't get me wrong, they killed but nothing extra from them and their performance reminded me of their set at Blackest of The Black last year.
Ho99o9 waited for the 1720 to fill up before taking the stage but as the night grew old and the early morning approached, theOGM, Eaddy and Brandon Pertzborn took the stage. A good indicator in determining a great live performer usually means they are also incredibly difficult to photograph and these guys are that. They keep you on your toes. For 2 months prior to this show I have been listening to Ho99o9's debut full length album "The United States of Horror," which helped me a little bit to determine these maniacs movements.
3TEETH Photo By Anthony Mehlhaff
These guys are a band that you have to see live and although songs like "Street Power, Knuckle Up and New Jersey Devil are incredibly powerful and intense songs to mosh to, they are fucking ridiculous when caught in a dark, sweaty room, almost filled to capacity. You never know what they are gonna do. They jump, fly and scream across the stage. The intensity of the music coupled with Eaddy flying over guard rails, Brandon smashing the drums and theOGM being a legit musical and lyrical wizard, these guys are easily one of the most fun bands I've seen this year.
Ho99o9 already had me as a fan with the music and with their performance I'm not sure I will be able to miss a local show ever again.
H09909 Photo By Anthony Mehlhaff
Ho99o9 and 3TEETH have ended their North American tour together but Ho99o9 has some North American dates coming up as well as European dates too and 3 TEETH will be touring the UK soon as well.
For more information on the bands check out
3teeth.org and Ho99o9.com respectively and follower @fuqtoff and @betahal9000 on instagram for more photos, reviews, BTS and more.